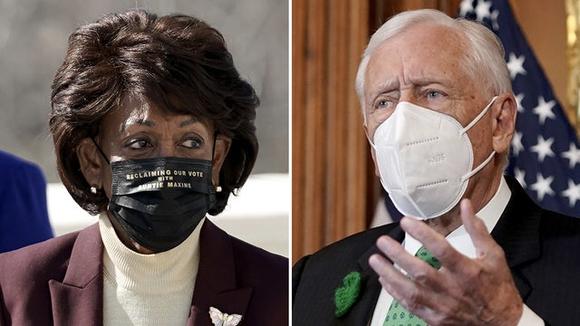 House Democrats are warning that Republicans are opening a Pandora's box after forcing a vote on censuring Rep. Maxine Waters (D-Calif.) this week.
Multiple Democrats have introduced resolutions in recent months to censure or even expel Republicans, primarily over inflammatory rhetoric making false claims about election fraud ahead of the Jan. 6 insurrection.
After Republicans forced the party-line vote on Waters this week, Rep. Jimmy Gomez (D-Calif.) circulated a letter renewing his effort to expel Rep. Marjorie Taylor Greene (R-Ga.) from Congress and urging more fellow Democrats to sign onto his resolution.
And moments before this week's vote, House Majority Leader Steny Hoyer (D-Md.) warned that Republicans forcing a roll call on censuring Waters makes it "harder" to justify not taking similar action against Republicans in the future.
"As my friend the leader knows, we haven't had all the resolutions that have been introduced on my side of the aisle," Hoyer said as House Minority Leader Kevin McCarthy (R-Calif.) prepared to trigger the vote to censure Waters.
"This makes it harder, however, not to proceed on numerous resolutions on my side of the aisle," he added.
The threat underscores how lawmakers have fewer qualms about imposing punishments as severe as censure or expulsion against each other as they continue to harbor fury over the insurrection more than three months ago.
It's also a reflection of an ever-more-polarized environment where lawmakers are quicker to turn to demanding maximum sanctions when they're outraged over conduct by members of the opposing party.
Gomez this week pointed to Greene initially planning a caucus with a draft policy platform that called for promoting "Anglo-Saxon political traditions" as yet another justification for the resolution he first introduced last month to expel her from Congress.
"[E]veryone – including House Republican leadership – knew this stunt was nothing more than an effort to promote white supremacy in the United States Congress," Gomez wrote in a "Dear Colleague" letter.
"From her open support for political violence against our colleagues to her brazen promotion of anti-Semitism and racism, there is no shortage of reasons as to why Congresswoman Marjorie Taylor Greene is unfit to serve in this legislative body. I hope everyone – both Republicans and Democrats – will join me in this endeavor to ensure our collective safety and preserve our democracy," Gomez continued.
Gomez's expulsion resolution already has 72 Democratic co-sponsors. House Democrats — along with 11 Republicans — previously voted in February to strip Greene of her committee assignments over her past endorsements of violence against Democrats and embrace of conspiracy theories like suggesting some mass shootings were staged.
Greene, meanwhile, introduced a resolution to expel Waters that went even further than McCarthy's measure to censure her.
McCarthy's resolution focused only on remarks from Waters last weekend in Minnesota, where the House Financial Services Committee chairwoman and outspoken member of the Congressional Black Caucus said "we've got to get more confrontational" about police brutality against African Americans.
Greene's resolution also cited past remarks from Waters encouraging supporters to harass Trump administration officials out in public over migrant family separations in 2018 and saying a year earlier that she would "go and take Trump out tonight."
"This is nothing new from Maxine Waters. She has been inciting violence and terrorism for the last 29 years," Greene said in a statement. But Democrats warn there's no shortage of past inflammatory rhetoric from Greene and others.
"Now, because of who I am, the right wing and members of Congress who subscribe to the views of groups like QAnon, the Oath Keepers, the Proud Boys and the KKK have targeted me. Those very people have done so to divert attention from the fact that they aided and abetted a violent, domestic terrorist insurrection led by Donald Trump," Waters wrote in a Los Angeles Times op-ed.
In large part because of the Jan. 6 mob attack on the Capitol, lawmakers have been introducing censure resolutions at a faster pace than in the last Congress. And while two expulsion measures have already been introduced four months into this year, only one such resolution was introduced in the last session.
That lone expulsion resolution came from then-Rep. Ralph Abraham (R-La.) against Speaker Nancy Pelosi (D-Calif.) over former President Trump's impeachment during his unsuccessful gubernatorial campaign. Censure resolutions were filed against four lawmakers in the last session: then-Rep. Steve King (R-Iowa), as well as Pelosi, House Intelligence Committee Chairman Adam Schiff (D-Calif.) and Rep. Bill Pascrell (D-N.J.).
Back in January, Democrats introduced separate resolutions to censure Reps. Louie Gohmert (R-Texas) and Mo Brooks (R-Ala.) for making false claims that the election had been stolen from Trump. Greene's fellow Georgian, Democratic Rep. Nikema Williams, also introduced a resolution to censure her.
Brooks had spoken at a rally outside the White House on Jan. 6 and said "today is the day American patriots start taking down names and kicking ass."
The resolution from Democratic Reps. Tom Malinowski (N.J.) and Debbie Wasserman Schultz (Fla.) states that Brooks "encouraged and fueled the mob, brought shame on the House of Representatives, jeopardizing its reputation and institutional integrity, as well as the safety of its members and staff."
Despite the flurry of lawmakers introducing measures to formally sanction each other, it remains extraordinarily rare for the House to actually take such a drastic step. Only 23 lawmakers have been censured in the House's history, while only five have been expelled.
Even so, the lingering anger over Republicans challenging the election results remains fresh in Democrats' minds.
"I think all of us on our side of the aisle are very concerned about the aid and comfort that the rhetoric of some and the actions of some gave to those who committed criminal insurrection against the United States of America and against our democracy on January 6," Hoyer said.
"So we're still very concerned about that, and action is still possible on that."
Via The Hill