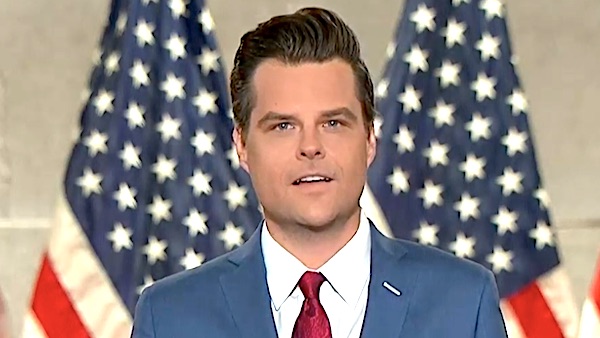 Senior Democrats are planning to censure Republican Reps. Louis Gohmert of Texas and Mo Brooks of Alabama for supporting President Trump.
Fox News reporter Chad Pergram said Rep. Matt Gaetz, R-Fla., also could be the target of a censure resolution in the House in the coming days.
Noting that the House has three formal modes of discipline — reprimand, censure and expulsion — Pergram wrote on Twitter that Fox has not seen any perspective resolution and is unaware of what the specific grievances would be.
The lawmakers were among those who voiced Trump's concerns about election fraud in the 2020 vote and formally objected to slates of voters at the joint session of Congress last week.
TRENDING: 'Bring it on': Peter Navarro says Dems 'overplaying their hand' on impeachment
In the Senate, meanwhile, Fox News reported Democratic Sen. Sheldon Whitehouse of Rhode Island, was calling for the expulsion of Sens. Josh Hawley, R-Mo., Ted Cruz, R-Texas, and perhaps others for signing on to objections at the joint session.
Whitehouse said the senators should be booted from their committees and denied permission to discuss the issue until their punishment is decided.
"Because Congress has protections from the Department of Justice under separation of powers, specifically the Speech and Debate Clause, significant investigation will need to be done in the Senate," he said. "Because of massive potential conflict of interest, Senators Cruz, Hawley, and Johnson (at least) need to be off all relevant committees reviewing this matter until the investigation of their role is complete."
Other Democratic senators who have made similar demands include Sherrod Brown of Ohio, Patty Murray of Washington and Chris Coons of Delaware.
Both Hawley and Cruz condemned the violence at the Capitol last Wednesday as a "terrorist attack."
In the House, Rep. Cori Bush, D-Mo., already has proposed a resolution to expel some Republicans.
"The actions of the Republican lawmakers who tried to overturn the valid results of the 2020 elections must not only be condemned in the strongest possible terms, but I believe the members who attempted to disenfranchise voters and incited this violence must be removed from Congress," Bush said.
Corporate funders also have sought to punish Republicans who raised objections about the 2020 elections, including charges that state officials ignored established laws and illegally changed others.
KMBC-TV in Kansas City reported Hallmark's political action arm, HALLPAC, was demanding Republicans return donations that  had been made to their campaigns.
Gaetz told "Fox Report Weekend" host Jon Scott on Sunday that Trump remains the leader of those who believe America's best days are ahead and support law enforcement.
The congressman said the president's supporters "need to stand together and fight against a radical left-wing agenda that it appears Joe Biden intends to usher in with unified control over the government."
Via WND