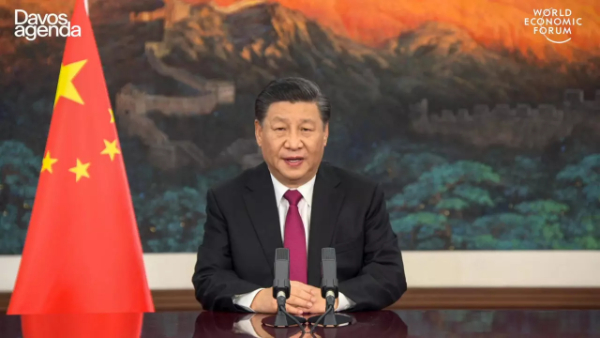 The World Economic Forum opened a virtual conference on Monday featuring its Great Reset initiative with a speech from China's president and general secretary of the Communist Party, Xi Jinping.
WEF founder Klaus Schwab introduced Xi by commending China for its "many initiatives" undertaken "in the spirit of creating a world where all actors assume a responsible and responsive role."
"Mr. President, I believe this is the time to reset our policies and to work jointly for a peaceful and prosperous world," Schwab said.
Schwab's reference to "reset" is the "Great Reset of capitalism" he called for last year to "reform" the world's democratic systems in response to the coronavirus pandemic.
TRENDING: Fireworks! Watch Rand Paul crush Stephanopoulos on 'stolen' election
Schwab, who hosts the annual conference in Davos, Switzerland, of the world's most influential political and business leaders, said in his introductory remarks that 2021 "will be the critical year to reestablish trust in our ability to shape our common future in collective and constructive ways" and to "accelerate the transition to a net-zero economy."
"In view of this objective," he said, it was his "honor" to introduce the communist leader.
Due to COVID-19, the in-person conference in the Swiss Alps has been replaced this year by the virtual "Davos Agenda" conference this week followed by an in-person "Davos in Asia" summit in Singapore in May.
Schwab said that in the last four years since Xi's "historic speech in Davos 2017," the world "has become more independent and more fractured and polarized."
No doubt alluding to the global leadership of President Trump, who confronted China economically and politically, Schwab said "polarization
"has created the age of disagreement, which threatened to derail humanity."
"Now, we must come together to ensure that we capture the moment and move into the age of collaboration to build a better world," the WEF founder said.
In his remarks, Xi urged the global community to put differences aside, warning history shows countries that go it alone "will always fail."
"As we cope with the current crisis and endeavor to make a better day for everyone, we need to stand united and work together," the Chinese leader said.
"We have been shown time and again that to beggar thy neighbor, to go it alone and to slip into arrogant isolation will always fail. Let us all join hands and let multilateralism light our way toward a community with a shared future for mankind," said Xi.
After engaging in a trade war and designating China the No. 1 U.S. enemy, the Trump administration closed with declaring the communist regime is committing genocide against its Muslim Uyghur population.
Via WND