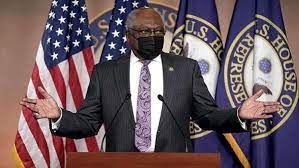 Top former Trump administration advisers helped suppress scientific information from the Centers for Disease Control and Prevention (CDC) they felt was harmful to President Trump, and attacked the agency's credibility, according to documents obtained by House Democrats.
The House Select Subcommittee on the Coronavirus Crisis sent letters to former Trump advisers Scott Atlas, Paul Alexander and Steven Hatfill, asking for documents and communications about the former administration's response to the pandemic.
"Our investigation has shown that Trump Administration officials engaged in a persistent pattern of political interference in the nation's public health response to the coronavirus pandemic, overruling and bullying scientists and making harmful decisions that allowed the virus to spread more rapidly," said Rep. James Clyburn (D-S.C.), chairman of the subcommittee.
Specifically, the committee found former science adviser Alexander attempted to alter or block at least 13 CDC reports related to the coronavirus. He also forwarded official government records from HHS to his personal email account, as well as to another non-government email account that the committee said may be associated with a former colleague.
The Trump administration has denied that there was any political interference impacting CDC reports, and claimed Alexander's emails "absolutely did not shape department policy or strategy."
During an October hearing before the Select Subcommittee, then-Health and Human Services Secretary Alex Azar similarly denied that Alexander had "authority over determining the final publication of an MMWR [CDC's Morbidity and Mortality Weekly Report] ."
Clyburn pushed back on those assertions, saying, "Recently obtained documents suggest your efforts to influence CDC's scientific reports were successful" in a letter to Alexander.
Alexander and Atlas are top proponents of herd immunity. It was previously revealed that Alexander repeatedly urged top health officials to adopt the strategy to protect "the vulnerable," but keep businesses open and deliberately expose millions of Americans to the virus.
Alexander wrote op-eds to attack CDC reports in order to justify Trump's push to reopen the economy after nationwide lockdowns and retaliated against officials from CDC and other agencies who provided truthful information to the public, the committee found.
In another instance, Alexander asked Atlas to help write an op-ed to preempt a forthcoming CDC report on coronavirus deaths in young people.
"The timing of this is meant to interfere with school re-opening and we need to get something out fast to pre-empt this in the next day or so and I can work with you on it," Alexander wrote. "Let us advise the President and get permission to pre-empt this please for it will run for the weekend so we need to blunt the edge."
In emails to political appointees, the committee found Alexander bragged that CDC reports showed more "good news" about the pandemic following his intervention, stating, "small victory but a victory nonetheless and yippee!!!"
The investigation also unearthed more details about how Alexander — an assistant professor at Canada's McMaster University who was recruited by Michael Caputo, a longtime Trump operative-turned-senior HHS official — influenced key scientific documents related to school reopenings.
Alexander was ousted when Caputo, assistant secretary for public affairs, departed HHS on medical leave last fall.
For example, on August 8, 2020, Alexander sent an email to then-CDC Director Robert Redfield, Caputo and other officials, demanding that CDC insert new language in a previously published scientific report, known as a Morbidity and Mortality Weekly Report (MMWR), on coronavirus risks to children or "pull it down and stop all reports immediately."
In another instance, Alexander requested that Atlas write an op-ed to push back against masking children and closing schools during the pandemic.
"I do think locking down our kids (and healthy adults) and masking them can dampen their functional immune systems. Do you think this can be done???" he asked.
Via The Hill