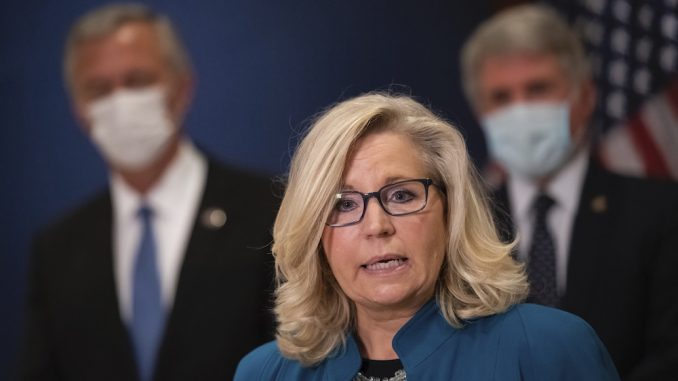 When Republicans vote Wednesday to expel House Republican Conference Chair Liz Cheney from the No. 3 leadership post, it will cement the Wyoming Republican and political scion as the face of the anti-Trump movement in the party.
What remains unclear is whether her apostasy leads to a political cul-de-sac or becomes the launching pad to a more prominent role within a Republican Party that's still grappling with its identity in a post-Trump Washington.
Until now, that splintered Never Trump faction has had no apparent leader. Sen. John McCain (R-Ariz.), the 2008 presidential nominee who repeatedly clashed with former President Trump, died in 2018. Sens. Lisa Murkowski (R), the centrist Alaskan, and Mitt Romney (R-Utah), the party's 2012 standard-bearer, both backed Trump's impeachment this year but don't lean into every Trump controversy.
Other vocal Trump critics such as Reps. Adam Kinzinger (R-Ill.), Jaime Herrera Beutler (R-Wash.) and Anthony Gonzalez (R-Ohio) don't have the stature or national name ID.
But in just a few short months, Cheney, the daughter of former Vice President Dick Cheney, has claimed the mantle as top truth-teller to Trump's false claims that the 2020 election was stolen. She's done so by warning, repeatedly and unbidden, that the party must reject Trump and his efforts to delegitimize President Biden's victory or risk alienating moderate voters — and inciting more violence like that which befell the Capitol on Jan. 6.
"We must not be complicit in the former president's lies," Cheney said Tuesday in a statement to The Hill. "Our oath to the Constitution imposes a duty to defend the foundations of our Republic from his unprecedented and ongoing assault."
For standing firm, Romney called Cheney "a person of integrity who follows her conscience and speaks the truth." Casting Cheney out, he said, "will do nothing but drive some people away from our party; it certainly doesn't add more people."
But in a party still commanded by Trump, those are the voices of the minority. Sen. Lindsey Graham (R-S.C.) warned Tuesday that if Republicans dismiss Trump, "half the people will leave."
In a private meeting on Wednesday morning, Republicans will take the unprecedented step of voting to oust Cheney as conference chairwoman, the same post her father held when he served in the House decades earlier.
The vote will cap a tumultuous five-month stretch for the younger Cheney, who shocked the political world in January by announcing she would vote to impeach Trump for inciting the deadly insurrection on Jan. 6 — something Cheney called the greatest "betrayal by a President of the United States of his office and his oath to the Constitution."
Trump vowed retribution, and a band of his fervent loyalists attempted to topple her in a similar closed-door meeting in early February. But Cheney, with support from Minority Leader Kevin McCarthy (R-Calif.), beat back the challenge in a convincing 145-61 vote.
The secret ballot allowed lawmakers to endorse her leadership role without doing so publicly — and sparking backlash from Trump, who is vowing to be a campaign kingmaker through the 2022 cycle.
Republicans thought they could turn the page, but Cheney continued calling out Trump and his defenders, highlighting GOP divisions at a time when party leaders were trying to unify behind an anti-Biden message with eyes on flipping the House next year. Rank-and-file Republicans were infuriated.
This time, McCarthy and Minority Whip Steve Scalise (R-La.), who had helped Cheney ascend to the post back in 2018, agreed that the Wyoming Republican had to go. Both leaders have endorsed a key Trump ally, moderate Rep. Elise Stefanik (R-N.Y.), to replace her.
"Kevin gave her a chance; she failed," conservative Rep. Warren Davidson (R-Ohio), a Trump ally, told The Hill. "It's time to get focused, remove Liz and advance our shared principles."
Cheney's rapid fall from favor is a telling episode in the long and bitter internal debate over Trump's role in the future of the Republican Party — a debate that's pitted Trump's allies against his detractors, and left little room for nuanced views in between.
Cheney, representing one side of that divide, is warning that Republicans face a bleak future with Trump at the helm. McCarthy, representing the other, thinks the party doesn't stand a chance without him there. And with Trump still enormously popular with the GOP's conservative base, it's all but certain that Cheney's colleagues are poised to cast her out in Wednesday's vote.
"She is speaking boldly and courageously. But that comes with a price," Tim Pawlenty, the former Minnesota governor and GOP presidential contender, told CNN on Tuesday.
With her expected defeat, Cheney will join a long list of GOP lawmakers who have confronted Trump head-on and suffered political blowback as a result. The list includes former Sens. Jeff Flake (R-Ariz.) and Bob Corker (R-Tenn.), and former Reps. Mark Sanford (R-S.C.) and Justin Amash (I-Mich.). All either retired or suffered primary defeats after criticizing the party's mercurial standard-bearer.
Democrats, meanwhile, have had little in common with the conservative Cheney in her years on Capitol Hill. But amid her fight with Trump, they're taking every opportunity to portray Cheney as the lonely voice of sanity in a party otherwise bowing to Trump's wishes.
"It's a sad day that the other party, the party of opposition, is now a party of lies, mistruths, misinformation to the public," said House Majority Leader Steny Hoyer (D-Md.).
Many Republicans believe Wednesday's internal vote will mark the end of what was a once-promising political career for Cheney.
As recently as last year, she was mentioned by colleagues as a possible future Speaker or president. But since her impeachment vote, the Wyoming GOP censured her and Trump has issued multiple statements promising to recruit a candidate to unseat her in her primary race next year. Already, a handful of pro-Trump contenders are lining up to challenge her return to Congress.
"I see no path forward for her in our party," a senior GOP aide said.
Still, even some Trump allies concede that Cheney will be someone to watch in the future, especially as she vows to wage war against Trump long after her ouster. A bid for president, some Republicans said, could still be in the cards, even if it's unclear whether there will be a wide lane for a "Never Trump" candidate like Cheney in a future GOP primary.
"Everybody reconstitutes themselves … and she's super smart and she's driven and she's a friend," Rep. Tim Burchett (R-Tenn.) told The Hill on Tuesday.
"I would absolutely think she would" run for the White House, he said. "People have very short memories in the political world. Never count anybody out in this game."
Newt Gingrich (R-Ga.), the former Speaker, also declined to count Cheney out, speculating that she's savvy enough to forge a political comeback in the future — if the conditions are right.
"This could be purely an act of conscience, and she could fade away into the sunset," Gingrich told Fox News this week. "But the Cheneys are very smart. They have been around a long time. I wouldn't be at all surprised to see her show up as an independent candidate for president if Trump is renominated."
Via The Hill