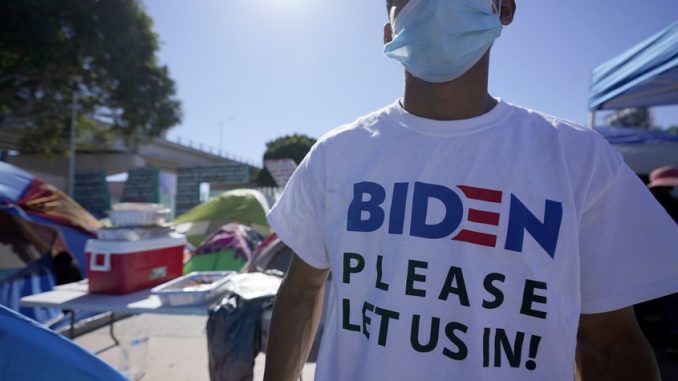 A Fox News reporter showed some exclusive footage of something you won't see on other networks. The video shows a mass release of single adult migrants in Brownsville. They arrived on buses contracted by the federal government and taken inside a small, unmarked office in a parking lot, according to reporter Bill Melugin. There was a makeshift black tarp with a sign that read "Border Patrol drop-off". No cameras are allowed inside that building.
Melugin has been reporting on the Biden border crisis from its beginning. He and a few other FNC reporters are the only voices letting Americans know what is happening on the southern border. The rest of the networks are happy to provide cover for the Biden administration's utter failure to keep the border secure. They simply don't report on it unless it becomes so overwhelmingly in-your-face like when the huge wave of Haitian migrants crossed over into Del Rio. Even with that story, though, the media was only interested in manufacturing a story of abuse to the illegal migrants at the hands of the agents on horse patrol.
Single adult migrants are supposed to be immediately expelled via Title 42. The Biden administration claims that is what is happening at the border, much to the dismay of progressives and other open border advocates. However, though the Biden administration is keeping Title 42 in force, it does not include families or unaccompanied children for expulsion. There were no children or families in this group. These adults, mostly males, stepped off buses and out of vans in Brownsville. They left the office and got into taxis. Melugin and his cameraman followed the illegal migrants. They went to Harlingen airport. From there the migrant adults planned to board flights to Atlanta, Houston, and Miami. Some of the migrants said that they had just arrived in Texas that morning, after paying $2,000 to a cartel.
There are black tarps set up around the parking garage to obstruct the public's view. In a statement, the city of Brownsville confirmed to me that they use this spot to work with the federal government to facilitate travel for the migrants released from federal custody. @FoxNews pic.twitter.com/c7kgs4rgyL

— Bill Melugin (@BillFOXLA) January 25, 2022
Border Patrol denies it is in charge of this operation. ICE is looking into it after questioning from Melugin. An official told him it may be an ICE ERO – enforcement and removal operation.
The City of Brownsville released a statement that said it is working with FEMA to provide transportation for the illegal migrants.
In a statement to Fox News, the city of Brownsville said its Office of Emergency Management, through federal assistance from the Federal Emergency Management Agency (FEMA), works to facilitate "the transfer of these migrants to their final destination by allowing them to use services to contact their families, NGOs, or a taxicab."

It confirmed that the parking garage serves as a staging area for migrants to be given travel information to "facilitate their transfer to their final destinations." Migrants can also be given a health screening there, a spokesperson said.
This story is being discovered the same time that the federal government finally released its numbers of apprehensions in December, once again setting record numbers. The Biden border crisis is continuing to grow. Joe Biden and his border czar Kamala don't seem to care about any of the repercussions of their neglect of the southern border. Border states are left to handle the mess. Instead the administration is transporting them to other states away from the border. Out of sight, out of mind, right?
Via      Hot Air