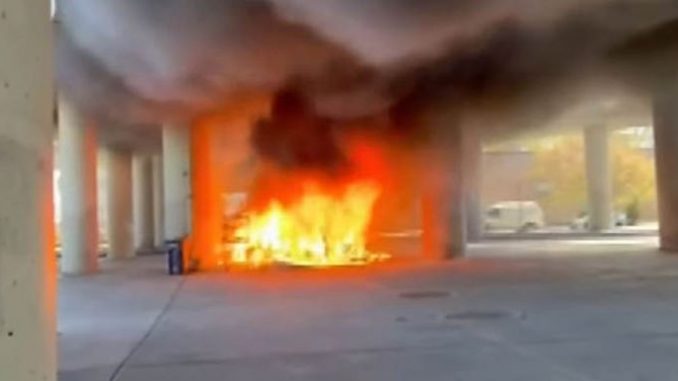 Last month I pointed out the series of fires that had broken out at homeless camps in Oakland, CA, with at least four fires making the local news in a month. But that's nothing compared to what firefighters in Seattle are dealing with. They average more homeless camp fires than that on an average day.
The number of blazes that have been reported at Seattle's homeless encampments have risen to nearly five a day in the area, prompting safety concerns and worries about depleted resources…

From Jan. 1 through April 3, officials said the Seattle Fire Department has responded 449 times to homeless camps for fire-related incidents, including rubbish fires and illegal burns.

That's an increase over last year when there were 290 encampment fires in the first three months.

A fire department spokesperson said it is hard to quantify just how much time and effort goes into battling blazes at homeless camps.
The latest blaze to make news happened beneath an overpass not far from T-Mobile Park, home of the Seattle Mariners. In this case, we know how the fire started. A man smoking drugs in a glass pipe "nodded out" and the butane torch he was using to light the pipe fell on a pile of tarps. Luckily the man wasn't injured.
Seattle firefighters say the fires aren't straining their resources but even if that's true, it's still taking up a lot of their time. A homeless activist who was present for the latest fire told KOMO News, "it is an absolute drain on resources and completely preventable." He's suggesting some kind of sanctioned camp where residents can be monitored.
But that wouldn't necessarily solve the problem. In fact, the fire I wrote about in Oakland last month happened at a Tiny Homes Village, basically a sanctioned camp where the homeless live in wooden sheds instead of tents.
Seattle is one of the most progressives cities in the country and what they're doing is clearly not working, not even close. I have a friend who recently got back from a business trip to the city. She told me that the change over the past few years is very noticeable. Where she had previously gone to visit the city as a tourist with her kids, now she said she felt unsafe walking downtown after dark. During the day she saw dozens of people using drugs on the sidewalk and some of them had entered a fentanyl or heroine induced stupor. They were standing upright but their eyes were closed and they weren't moving. She described it as looking like a scene from a zombie apocalypse but at the same time she said it was heartbreaking to witness. She described some of the images as things that were seared into her memory. It probably looked something like this.
HAPPENING NOW: Just hours after a shooting on 3rd Ave in Downtown Seattle, the insanity has returned. This is the stretch between Pike/Pine St. Open air drug use, sales of all kinds of merch, trash everywhere. How is this allowed?@MayorofSeattle @downtownseattle @SeattlePD pic.twitter.com/UQPmg9krhU

— Jonathan Choe Journalist (@choeshow) February 28, 2022
The city has become a scary, dirty and unpredictably violent place thanks to a homelessness problem that hasn't improved. A place where running a business is increasingly difficult. Even the city's largest employer had to bail out of one of its downtown locations last month:
In downtown Seattle's commercial core, retail workers have doubled as first responders, doormen have been deployed to keep unwelcome visitors out and some buildings are still sitting empty as employers worry about the safety of workers and customers.

Amazon is the latest company to react.

It is temporarily moving workers from its space in the building at Third Avenue and Pine Street that until 2019 held the downtown Macy's store, a spokesperson for the company said Friday. The office's 1,800 employees have been working remotely during the pandemic; rather than returning to the desks they left over two years ago, workers will move to other locations in South Lake Union. Remote work is still an option for Amazon employees.

"Given recent incidents near 3rd and Pine, we're providing employees currently at that location with alternative office space elsewhere," the spokesperson said in an emailed statement. "We are hopeful that conditions will improve and that we will be able to bring employees back to this location when it is safe to do so."
Will the condition improve? It's hard to see how. Meanwhile, the city's firefighters will just keep racing from one homeless camp to the next, putting out fires. This story is from February.
Via        Hot Air