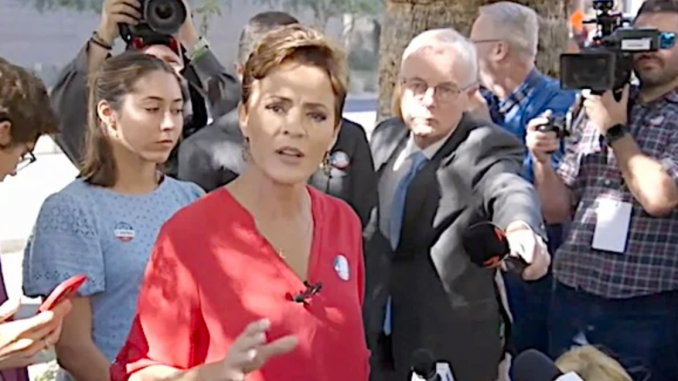 Describing the revelation as a "bombshell," Arizona Republican gubernatorial candidate Kari Lake's campaign spotlighted an election-integrity expert monitoring the vote-count who said Friday that the ballots of more than 350,000 "high propensity" Republican voters have not been tabulated in Maricopa County.
Democrat Katie Hobbs leads by more than 1 point with more than 500,000 votes yet to be counted, 50.7% to 49.3%.
But Gina Swoboda told "The Charlie Kirk Show" the county gave her a readout Friday morning through her team's legal observers reporting "292,000 Election Day drop offs have completed signature verification, but have not yet begun to go to adjudication, so that's group one."
Another 12,000 uncounted votes were among the 17,000 votes that were impacted by printer issues. Voters were given the option of placing their votes in what was called "ballot box 3." A further 30,000 to 40,000 were cast on Election Day under an emergency provision.
Lake's campaign tweeted: "The layman's explanation of the 'bombshell' is that there are SIGNIFICANTLY more Republican ballots that we expected that have still yet to be counted."
See Gina Swoboda's remarks:
BOMBSHELL: Election Expert Gina Swoboda gives an update on the election in Arizona pic.twitter.com/pJFVdUHKgo

— Kari Lake (@KariLake) November 11, 2022
Earlier, an adviser for Lake said she believed that among the roughly 500,000 votes remaining to be counted, there is "no mathematical path" for Hobbs to win.
In any case, the vote counting in Maricopa County will not resume until sometime next week, according to county elections chairman Bill Gates. The undecided senatorial race between Democrat Sen. Mark Kelly and Republican challenger Blake Masters also is affected by the vote-count delay.
The Republican National Committee, along with the Lake and Masters campaigns, are suing Maricopa County over issues with the voting tabulation machines.
On Election Day, dozens of polling stations ran out of paper ballots, impacting tens of thousands of votes. And some 20% of the polling stations had problems with vote tabulators.
Gates and Vice Chairman Clint Hickman issued a statement saying Arizona elections officials will investigate and "all ballots will be counted securely and accurately."
Via Wnd