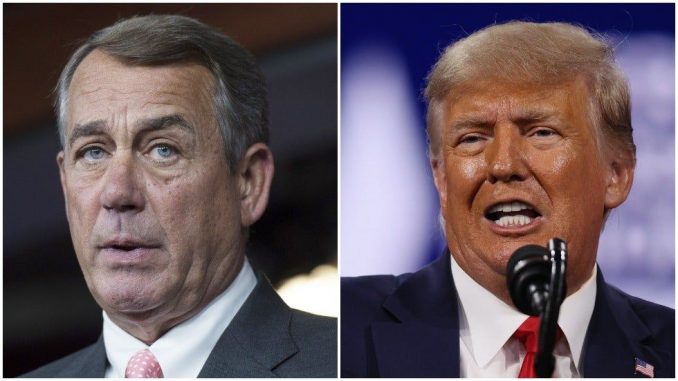 Former House Speaker John Boehner (R-Ohio) said former President Trump "stepped all over their loyalty" when he peddled claims of voter fraud to his followers in the months following the 2020 election.
In an interview days before the release of his book "On the House: A Washington Memoir," Boehner told USA Today that he decided to speak out after the Jan. 6 attack on the Capitol to hold Trump accountable for his part in the insurrection.
"I don't think it was just about him showing up at a rally on Jan. 6th," Boehner told USA Today. "The comments that were made all summer about the election was going to be stolen from him, all the follow-up noise that occurred after the election – I kept looking for the facts."
"What struck me, especially after the election, was, here's all these people loyal to Donald Trump, and he abused them," Boehner added. "He stepped all over their loyalty to him by continuing to say things that just weren't true."
Days after the insurrection, Boehner tweeted a condemnation of the attack and denounced the Republican Party, and he sent an emotional email to an informal group of friends, allies and former aides he refers to as "Boehnerland."
I once said the party of Lincoln and Reagan is off taking a nap. The nap has become a nightmare for our nation. The GOP must awaken. The invasion of our Capitol by a mob, incited by lies from some entrusted with power, is a disgrace to all who sacrificed to build our Republic.

— John Boehner (@SpeakerBoehner) January 7, 2021
In December, then-Attorney General William Barr said that the Department of Justice had uncovered no evidence of widespread voter fraud that would change the outcome of the election. Dozens of courts have also shot down lawsuits alleging the election wasn't legitimate.
In his book, Boehner also recalled the first time he met Trump: over a game of golf during a fundraising tour with two insurance executives at Trump National Golf Club in Westchester, New York, USA Today reported.
Boehner, who at the time was the House minority leader, said he was informed "out of nowhere" that Trump would be the group's fourth.
"He was very friendly, but in an in-your-face, this-is-how-they-talk-in-New-York kind of way that I was not used to at all," Boehner recalled, according to USA Today.
"Direct, loud, intense," he added.
He wrote that a young aide to Boehner embarrassed Trump by giving him the wrong name for one of the insurance executives, prompting Trump to dress him down in an expletive-laced tirade that Boehner called "dark."
Boehner recalled Trump calling the aide an "idiot."
"This was more than New York bluster," Boehner wrote, according to USA Today. "This was real anger, over something very, very small. We had no idea then what that anger would do to our country."
Boehner also wrote about calls Trump made early in his presidency to the former House Speaker for advice. Among other things, USA Today reported, Boehner advised Trump to stop tweeting.
When considering how history would judge the 45th president, Boehner wrote, "Well, I don't think very well."
The comments from Boehner come days before the release of his memoir, in which the former House Speaker offered his commentary on a number of Washington power players.
In the book, Boehner called Sen. Ted Cruz (R-Texas) a "reckless asshole" and former Rep. Michele Bachmann (R-Minn.) a "lunatic," and he said conservative pundits such as Sean Hannity and Rush Limbaugh are residents of "Looneyville."
Boehner also called the claim of election fraud pushed by Trump a "bullshit" lie and said he incited the "bloody insurrection" in January "for nothing more than selfish reasons."
Via The Hill