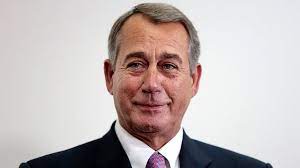 Former Speaker John Boehner (R-Ohio) is throwing his support behind an Ohio Republican who voted to impeach former President Trump, according to an invitation obtained by Politico.
"Former House Speaker John Boehner is slated to be the special guest at a Monday afternoon Zoom fundraiser for Rep. Anthony Gonzalez (R-Ohio)," the invitation for the fundraiser reportedly reads.
Boehner's backing of Gonzalez puts him in direct confrontation with Trump, who is supporting Gonzalez's primary opponent, Max Miller. Trump recently hosted a fundraiser for Miller at his Mar-a-Lago club in Florida.
Trump has vowed to back primary opponents of any Republican who voted to impeach him. Gonzalez was one of 10 Republicans who voted to impeach Trump in the House. A number of Trump's critics in the GOP are already facing primary challenges.
The conservative Club for Growth recently said it will be targeting Gonzalez and Rep. Liz Cheney (R-Wyo.) for their impeachment votes.
Former Speaker Paul Ryan (R-Wis.) hosted a fundraiser for Cheney at the beginning of March.
Via The Hill