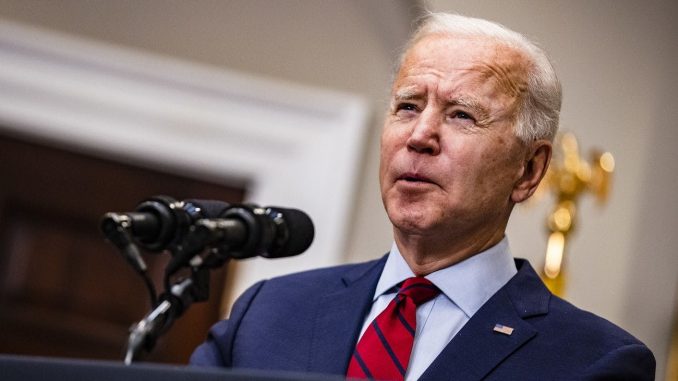 President Biden used his remarks at the annual Martin and Coretta Scott King Unity Breakfast on Sunday to call on Congress to restore parts of the Voting Rights Act struck down by the Supreme Court in 2013.
"In 2013, the U.S. Supreme Court gutted the Voting Rights Act, holding that times have changed and blatant voter discrimination was rare, contrary to the assault that was taking place on the ground," Biden said in recorded remarks. "The late Justice [Ruth Bader] Ginsburg wrote that the decision was like 'throwing away your umbrella in a rainstorm.' Today, we have a hailstorm, not a rainstorm."
Biden also hailed the unprecedented voter turnout seen in 2020, despite the coronavirus pandemic, and condemned both the Jan. 6 riot at the U.S. Capitol and proposed legislation to restrict voting introduced in a number of states.
The president's remarks come on the 56th anniversary of Bloody Sunday, when Alabama state troopers used tear gas on and beat peaceful civil rights protesters on the Edmund Pettus Bridge in Selma in 1965. Former President Johnson signed the Voting Rights Act into law that August.
The measure to restore the Voting Rights Act is named after the late civil rights leader Rep. John Lewis (D-Ga.), who was beaten during the march and suffered skull fractures. Lewis died last year.
"A few days before he passed, Jill and I spoke with John, Congressman Lewis. But instead of answering our concerns about him — 'How are you doing, John?' — he asked us to stay focused on the work left undone to heal and to unite this nation around what it means to be an American," Biden will say at the breakfast. "That's the God's truth. John wouldn't talk about his pending death or his concerns. He said we just got to get this done."
Biden on Sunday also signed an executive order on voting access that aims to increase access to voting and, in particular, reduce barriers to voting for groups such as Native Americans, people with disabilities, service members and overseas voters.
Via The Hill