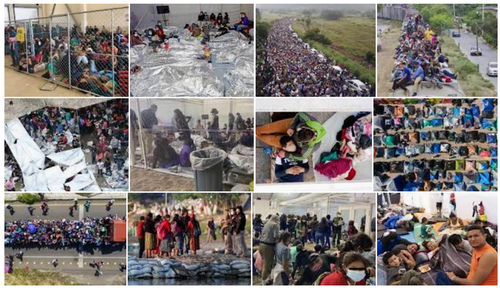 Biden made a campaign pledge to fix the border with Mexico. Let's investigate how he's doing starting with polls then the hard facts.
According to an AP NORC Poll few are satisfied with President Biden's approach to immigration, border security, and particularly toward the recent surge of unaccompanied children at the southern border.
40% disapprove of Biden's handling of the situation of unaccompanied children at the border and only 24% approve. https://t.co/3vlujxMVPe pic.twitter.com/MpTPwP38MO

— AP-NORC Center (@APNORC) April 5, 2021
That question specifically addressed children.
Overall, Biden has a 44% approval rating on his handling of the border, heavily skewed towards 74% of Democrats who say they like what he is doing.
That means 74% of Democrats and 44% of people overall are clueless or simply refuse to think.
Biden Blames Trump
Politico reports Biden Bets That He Can Change How America Thinks About Migration.
I bet he can't, especially with millions of US citizens in search of a job. Meanwhile here's a Q&A
Q: What do politicians do when facing a situation that's out of control?
A: Blame their predecessor.
In calls with House lawmakers this week, Biden administration officials repeatedly stressed that they inherited a disaster from the Trump administration, and said that the solutions would not be painless or quick. In a separate call with Democratic communications aides on the Hill, White House officials reiterated that the "real crisis is in Central America," according to several people on the call. Biden and his team are emphasizing the "root causes" of migration surges, and their renewed diplomatic efforts with Central American countries, which lapsed under the Trump administration.
The problem is complex, and Trump did not create it. It's been ongoing for decades.
Biden did downplay it just as Angela Merkel did with a huge surge of immigrants attempting to escape Mideast wars, especially in Syria.
Send Them Back
Biden roundly criticized Trump for sending them back and turning them away.
Q: What's Biden doing?
A: Sending them back and turning them away. 
The number of unaccompanied children arriving at the border hit a monthly-high in March, exceeding the last record-high in May of 2019. In total, some 170,000 people were apprehended by border patrol last month. About 100,000 of those migrants were single adults, who have been routinely removed from the U.S. by the Biden administration under a Trump-era public health authority.

There's also simmering Democratic and activist frustration with Biden's continued use of the Trump-era authority — known as Title 42 — to expel the majority of people encountered at the border. Publicly and privately, the White House has told reporters and Hill staff that they have no timeline to stop using the authority.
Non Solutions
Proving he cannot think clearly, Biden wants to house illegal immigrants in churches, stadiums, and summer camps.
His administration is also racing to expand capacity to humanely house a growing number of child migrants in emergency intake sites — like stadiums, church facilities and summer camps — rather than keep them in tightly-packed border patrol facilities.
Three Q's, Obvious Answers
Q: What happens to the numbers when the word gets out we are housing and feeding all comers in stadiums?
Q: What the hell do you do when the stadiums fill up?
Q: What happens to Summer camps in the Winter?
Hey, Let's Put Kamala Harris On the Mission
In addition to bribing Central American countries and filling up stadiums, Biden put Kamala Harris in charge of the mission.
That brings another question to the forefront: Why did Biden put Harris in charge of the border crisis?
The average annual income in El Salvador is $4,000; in Guatemala it is $4,610; and in Honduras it is $2,310.

People are still leaving those countries to come here; moreover, there is little — if any — reason to think it ever will [stop]. The differences between conditions in Central America and the United States are too great, particularly economic conditions.

When asked on the second night of the 2019 Democratic debates if an undocumented alien should be deported if his only offense is not having documents, her response was, "I will say, no, absolutely not. They should not be deported."

Is she an effective negotiator?

Harris's record as a senator indicates that being able to change the minds of people she disagrees with isn't one of her strong points, and she seems to be aware of this shortcoming. When she was a candidate for the presidency, she admitted that she would not be able to persuade Congress to pass immigration reform legislation. Her plan was to rely instead on executive actions.

She was one of just three Democrats who voted against a compromise that would have given the Trump administration billions of dollars for a border wall in exchange for a path to citizenship for Dreamers.

So why would Biden choose her to lead his administration's efforts to work with the Central American and Mexican governments to stop the flood of illegal crossings?

Apparently, he doesn't want to secure the border either. 
The Pledge
In December 2020, Biden told reporters that he would establish a more "humane policy" at the borders but that he would need "probably the next six months" to rebuild a system to process migrants and secure funding for immigration judges.
Three months down and three to go before the buzzer sounds. 
Not to worry. Biden is unlikely to last a full term anyway. Soon the problem will be someone else's.
Oh, wait a second. What will president Harris do?
Via MishTalk