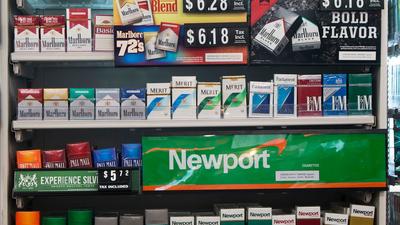 The nanny state is about to go to 11.
In a country of 350 million (double-masked) people, where nobody can be trusted to make a correct decision – at least in the eyes of the liberal left – without the government's sage micromanagement, said government is about to intervene again this time in determining what the correct level of nicotine in cigarettes should be. According to the WSJ, the Biden administration is considering requiring tobacco companies "to reduce the nicotine levels in all cigarettes sold in the U.S. to levels at which they are no longer addictive."
The nicotine-reduction policy under consideration would lower the chemical in cigarettes to nonaddictive or minimally addictive levels, aiming to push millions of smokers to either quit or switch to less harmful alternatives such as nicotine gums, lozenges or e-cigarettes.
Administration officials are considering the policy – which was first floated in 2017 – as they approach a deadline for declaring the administration's intentions on another tobacco question: whether or not to ban menthol cigarettes.
As the Journal notes, the FDA must respond in court by April 29 to a citizens' petition to ban menthols by disclosing whether the agency intends to pursue such a policy. Meanwhile, the Biden administration is now reportedly weighing whether to move forward on a menthol ban or a nicotine reduction in all cigarettes—or both.
The thinking goes that a menthol ban would aim to curb smoking initiation among young people, many of whom start with menthols.
Even if launched, both policies would take "years to implement and would likely face legal challenges."
Scott Gottlieb, an FDA commissioner under the Trump administration, pursued both a menthol ban and a reduction of nicotine in cigarettes as part of a broader tobacco policy he proposed in 2017. But after he left the agency in 2019, both plans were shelved.
If enacted, the plan would be a replica of a proposal from New Zealand last week seeking to sharply reducing nicotine levels in cigarettes and raising the legal smoking age as part of a broader policy aimed at ending smoking.
Of course, lowering nicotine in cigarettes has been a subject of discussion inside the FDA since the 1990s. It can be done in different ways, such as genetically modifying tobacco plants or stripping nicotine from the leaf in the manufacturing process. In 2009, the Tobacco Control Act authorized the FDA to mandate such a change, stipulating that the policy be based on scientific evidence. A ban on menthols has similarly been in the FDA's sights for years.
In response, tobacco companies have said that any change in cigarettes' nicotine levels must be backed up by scientific research and should consider potential consequences such as an increase in black-market sales.
As for Menthol, while the Tobacco Control Act banned candy, fruit and spice flavorings in cigarettes because of their potential appeal to children, it left unsettled the issue of menthol. The 2009 law said the FDA could prohibit menthols only if it could demonstrate that a ban was a net benefit to public health, taking into account potential unintended consequences such as an illicit market. The agency has been working on overcoming that hurdle since then. The FDA concluded in 2013 that menthols are harder to quit and likely pose a greater health risk than regular cigarettes. The agency said use of the cigarettes was likely associated with increased smoking initiation by youth and young adults.
In kneejerk reaction to the news, shares of cigarette makers tumbled with Altria sinking as much as 6.1%, the most intraday since March 2020.
Elsewhere, Philip Morris fell as much as 1.4% to a session low; Vector Group fell as much as 1.5% and British American Tobacco's ADRs slumped 1.7%.
Via Zero Hedge