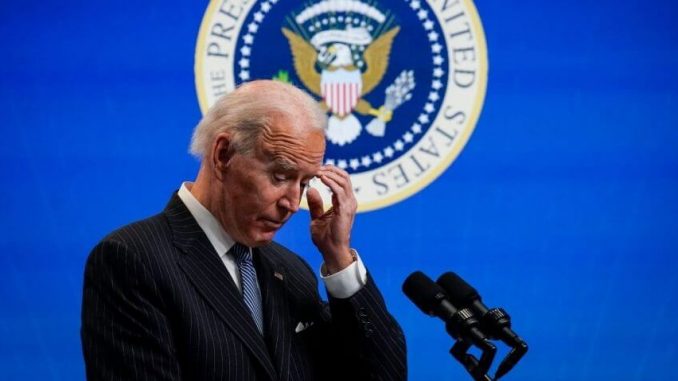 The Daily Caller reports that "President Joe Biden re-imposed a tariff Monday night against the United Arab Emirates (UAE) that had previously been levied by former President Donald Trump." Biden quickly canceled two fundamental items on the Abraham Accords signed by UAE and Israel.
Biden reimposed the 10% aluminum tariff that had been halted by the peace deal and also paused the F-35 sale to the UAE.
President Trump previously approved the deal, but Biden has made it clear that all deals approved by President Trump are up for review as the establishment's need to erase Trump's legacy grows.
Biden wrote in a statement, "I consider it is necessary and appropriate in light of our national security interests to maintain, at this time, the tariff treatment applied to aluminum article imports from the United Arab Emirates (UAE) under Proclamation 9704, as amended, as they are currently in effect as of this date."
The statement continued, "Accordingly, and as provided for in clause (6) of Proclamation 10139, I am terminating the modifications contained in that proclamation before they take into effect."
Biden said in his view "available evidence indicates that imports from the UAE may still displace domestic production, and thereby threaten to impair our national security. I believe that maintaining the tariff is likely to be more effective in protecting our national security than the untested quota described in Proclamation 10139."
Although Biden is hindering peace in the Middle East by pausing these two crucial items in Trump's Abraham Accords, Biden did say he "is not going to make any immediate moves" on rolling back tariffs on China. Conservatives have their eye peeled for indications that Biden's administration is going soft on China.
When speaking on the Trump/China trade deals, Biden said he would continue to pursue "trade policies that actually produce progress on China's abusive practices – that's stealing intellectual property, dumping products, illegal subsidies to corporations."
Biden claimed that his administration was going to "fight like hell by investing in America first," but spent his first week on the job canceling American energy jobs by the thousands with the cancelation of the Keystone Pipeline and new drilling contracts on federal land.
America First is a sentiment all Americans should be able to rally behind, but the idea that Joe Biden will be the president to make the greatest strides under that banner is another farce the establishment sold you.
Joe Biden is going to make allies with the countries that want us weak and turn his back on the countries that want us strong. Joe Biden will never be an American First president.