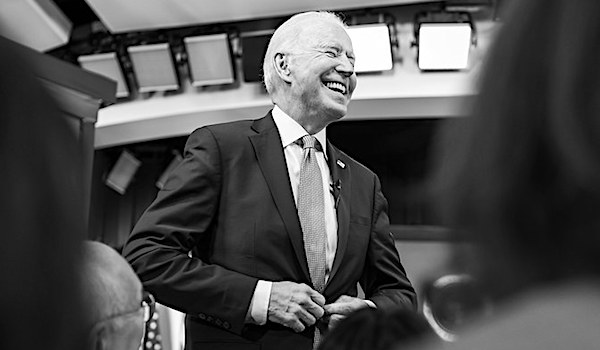 Blaming an estimated 80 million unvaccinated Americans for the persistence of the novel coronavirus pandemic, an angry President Biden on Thursday announced that all employers with more than 100 workers must require COVID vaccinations or weekly virus tests.
As many as 100 million people will be affected by the new vaccine mandate, which also will apply to workers at health facilities that receive federal Medicare or Medicaid.
In addition, Biden is signing an executive order affecting several million more workers, requiring vaccination for employees of the executive branch and contractors who do business with the federal government. The mandate has no option to test out.
The mandate for executive branch workers expands previous mandates that are now being implemented by the Defense Department, Department of Veterans Affairs, the Indian Health Service and the National Institutes of Health that together cover about 2.5 million people.
At the White House, Biden scolded the unvaccinated.
"We've been patient, but our patience is wearing thin, and your refusal has cost all of us," he said, saying the mandate is "not about freedom or personal choice."
Biden said "a distinct minority of Americans, supported by a distinct minority of elected officials" are "making people sick, causing unvaccinated people to die."
However, the CDC has acknowledged that the vaccines do not prevent the spread of the delta variant, which comprises nearly 100% of the current cases. The waning effectiveness of the vaccines is the premise for requiring the vaccinated to be masked and the push for booster shots. Instead, the agency now emphasizes that people who are vaccinated reduce the risk of hospitalization and death. However, in Israel, one of the world's most fully vaccinated nations, most of the COVID cases are among the vaccinated. In the U.K. last month, 40% of cases had received at least one shot.
How do unvaccinated people hurt vaccinated people if the vaccine is a vaccine and also if both vaxed and unvaxed can transmit the virus? https://t.co/9HewiiNUju

— Dana Loesch (@DLoesch) September 9, 2021
Biden's six-pronged plan also calls on large entertainment venues, such as sports arenas and concert halls, to require proof of vaccination or testing for entry. And it requires employers to provide paid time off to get vaccinated.
The president clearly had Republican governors who oppose vaccine and mask mandates such as Florida's Ron DeSantis in mind when he said his plan "also takes on officials in states that are undermining you and these live-saving actions."
"If they'll not help, if these governors won't help beat the pandemic, I'll use my power to get them out of the way."
Harvard Medical School epidemiologist Martin Kulldorff, who has advised DeSantis on his COVID-19 policy, said Thursday that by "mandating vaccines for all, the WH pandemic plan does not recognize that prior COVID disease gives stronger longer lasting immunity than vaccines."
"So, a stretch to call it 'science-based," he said on Twitter.
The CDC estimated that from February 2020 to March 2021, 114.6 million Americans were infected with COVID-19.
Kulldorff pointed to a recent study in Israel that found natural immunity to be 27 times more effective than immunity from the Pfizer vaccine administered in the country.
And he argued "COVID mortality is more than 1000-fold higher among old vs young, so absurd that the WH pandemic plan mandates vaccines for low-risk working-age people, while it is silent on the critical task of vaccinating more older high-risk retirees."
The survival rate for children up to age 17 who are infected with COVID-19, according to the CDC's best estimate, is virtually 100%, at 99.998%.
Meanwhile, a new study reported Thursday by the Telegraph of London found young males are six times more likely to suffer from heart problems after being vaccinated than be hospitalized from coronavirus. And a newly published analysis of national databases led by a researcher at the University of California at Davis concluded the risk of vaccinated children ages 12 to 17 outweighs any benefit, citing the higher rate of myocarditis, a heart-inflammation disease, in those who were vaccinated compared to those who had COVID-19. The Washington Post reported Tuesday that after women began reporting the COVID-19 vaccine affected their periods, the federal government allocated $1.6 million to research the issue.
See video of Biden's remarks:
Ready to sue
Reacting to the news, Republican South Dakota Gov. Kristi Noem said her "legal team is standing by ready to file our lawsuit the minute @joebiden files his unconstitutional rule."
"This gross example of federal intrusion will not stand," she said.
Rep. Thomas Massie, R-Ky., agreed that Biden's mandate for private employers is unconstitutional.
The federal Occupational Safety and Health Administration, known as OSHA, has "no more authority to enforce this (there's no statutory authorization) than CDC had to issue the eviction moratorium," he wrote on Twitter.
"Which is to say they both have ZERO authority to do these things. Congress makes the laws in a constitutional republic."
WH Chief of Staff might regret this retweet.

Courts consider the intent and purpose of policies and Klain just endorsed the notion that OSHA rule is a "work-around" to enact flagrantly illegal federal vaccine mandates. pic.twitter.com/RBB4ihsIiL

— Matthew Hamilton (@MatthewDavidHa4) September 9, 2021
Former congressman and Trump chief of staff Mark Meadows called Biden a "lawless president."
"Once again, Joe Biden shows himself to be everything the left falsely accused Donald Trump of being," he wrote on Twitter. "They called Trump a dictator. But it's Joe Biden who over and over makes it clear: he's a lawless President who will trample over the constitution to achieve his partisan goals."
"This is not about freedom or personal choice…" Joe Biden enthusiastically pits Americans against each other, makes bogus claims acting like he can control who private businesses employ and, once again, refuses questions from media. This isn't leadership and it's not legal.

— Lee Zeldin (@RepLeeZeldin) September 9, 2021
In fact, White House press secretary Jen Psaki said at the July 23 daily briefing that the federal government has no role in vaccine mandates.
"That is the role that institutions, private-sector entities, and others may take. That certainly is appropriate," she said at the time, according to a White House transcript. "Also, local communities are going to take steps they need to take in order to protect people in their communities."
Biden himself said in December, before taking office, that he didn't think vaccination should be mandatory.
"I wouldn't demand it be mandatory. … Just like I don't think masks have to be made mandatory nationwide," he said.
And, on July 30, CDC Director Dr. Rochelle Walensky said there would be no nationwide vaccine mandate.
The unvaccinated in America are overwhelmingly low-income people, which means any punitive measures against those refusing vaccinations — loss of jobs, bar on entrance to public spaces or travel — will disproportionately fall on those who are most economically vulnerable. pic.twitter.com/ieKpdbYps0

— Glenn Greenwald (@ggreenwald) September 9, 2021
The conservative news site the Daily Wire has more than 100 employees but will not comply with Biden's order, said Chief Operating Officer Jeremy Boreing on Twitter.
"We will not enforce Joe Biden's unconstitutional and tyrannical vaccine mandate," he said Thursday. "We will use every tool at our disposal, including legal action, to resist this overreach."
"The Daily Wire does have more than 100 employees but we won't be enforcing Joe Biden's unconstitutional and tyrannical vaccine mandate. That's it. We'll use every tool at our disposal including legal action to resist." – @realDailyWire CEO @JeremyDBoreing pic.twitter.com/uQy3Fufmmj

— The Daily Wire (@realDailyWire) September 10, 2021
Amid Biden's push for a third booster shot to address the declining effectiveness of the COVID-19 vaccines, the FDA, Politico reported one week ago, is "facing a potential mutiny among its staff and outside vaccine advisers, several of whom feel cut out of key decisions and who view the plan to offer boosters to all adults as premature and unnecessary." A former FDA official said top vaccine officials Marion Gruber and Philip Krause quit because they were angered by the agency's lack of autonomy regarding approval of the COVID vaccines.
The heads of several federal health agencies have announced that third doses of the Moderna and Pfizer vaccines would be provided around Sept. 20. However, the FDA has not yet authorized universal booster shots. The agency's approval of a third dose of the Pfizer-BioNTech and Moderna vaccines is limited to people with certain health conditions that compromise their immune systems
Mission accomplished?
On Thursday, prior to Biden's televised announcement, a reporter at the White House asked press secretary Jen Psaki if the president had made a mistake by declaring victory over the virus in July.
She replied that the pandemic persists because 80 million Americans refuse to be vaccinated.
"The reason we are here is because people have not gotten vaccinated, 80 million of them. Not because of any other reason, not because of a speech, not because of CDC guidance, not because of any other reasons," she said.
The federal government's objective, Psaki added, is "to continue to take bold and ambitious steps to get more people vaccinated and protect more people."
Another reporter asked Psaki what the consequences will be for those who don't comply with the mandates on federal employees.
"There are limited exceptions, but the expectation is that if you want to work for the federal government or be a contractor, you need to be vaccinated," she said.
The CDC's daily COVID-19 tracker indicates new cases have reached a peak or are already declining. As of Tuesday, the seven day-average was 140,000 cases and 1,022 deaths. That's down from the Sept. 1 seven-day average of 156,000 cases and 1,141 deaths.
An ethicist at the University of Western Ontario in Canada, Julie Ponesse, explained in a video circulating on Twitter why she believes vaccine mandates are unethical.
‼️This is — without a doubt — the best articulation as to the ethical problem posed by mandatory vaccines or vaccine passports.

Dr. Julie Ponesse explains the dilemma in a persuasive manner.

Watch the whole 4 minute video, split across 3 segments in this thread 🧵 pic.twitter.com/zAzzfXw9dP

— David Anber, Criminal Lawyer 🇨🇦 (@DavidAnber) September 8, 2021
Via Wnd