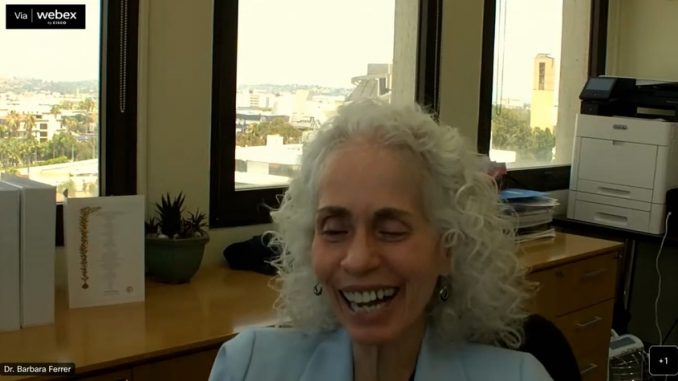 Los Angeles County Department of Public Health is weighing the possibility of bringing back an indoor mask mandate in the county. The reason given is a steady rise in COVID-19 cases in recent weeks. The indoor mask mandate was supposed to go into effect Friday but it was postponed. Public Health Director Barbara Ferrer (pictured above) said that cases are leveling off in the county and "we are likely to want to take a pause on moving too quickly on universal indoor masking."
Is this some common sense being shown on the part of a public official? Maybe. Just in case Ferrer and others in Los Angeles County do decide to overreact and embrace such a mandate, the Beverly Hills City Council met and took a vote on the possible indoor mask mandate. Their response was a big ole no. If Ferrer or any other public official in Los Angeles County decides to embrace their inner authoritarian and issue such a mandate, the City of Beverly Hills will defy the mandate. It will not be enforced in Beverly Hills. Beverly Hills falls under the jurisdiction of the Los Angeles County Department of Public Health. The vote was unanimous. "I feel it is our job to lead and I support the power of choice," Beverly Hills Mayor Lili Bosse said after the vote Monday evening, according to reporting from Fox 11.
"Our job is to be proactive and public about what we believe," Bosse said. "This is a united City Council and community that cares about health. We are not where we were in 2020, and now we need to move forward as a community and be part of the solution."
How refreshing. An elected official in California is speaking up for the freedom to choose whether or not to wear a face mask indoors. California has been one of the most restrictive states when it comes to mitigating COVID-19 exposure and often seems to overreact as its first reaction. The state all but closed down for months on end – except Hollywood and the entertainment industry. They were given exemptions to keep working while ordinary Californians were told to lock themselves down in their homes.
The arguments against mask mandates have raged almost from the beginning. It quickly became obvious that face masks don't really provide protection from exposure to the coronavirus unless the person is wearing a surgical grade mask that is fitted properly. Cloth masks are mostly a waste of time. They make the wearer feel as though there is some protection but studies have shown otherwise.
One Los Angeles County Supervisor is standing up against the face mask mandate, if it goes into effect, too. She is a Republican.
I cannot support a universal #COVID19 #maskmandate in @countyofla. Read why in my open letter: https://t.co/1mOY0g5YHj pic.twitter.com/0F5ADQSYcp

— Supervisor Kathryn Barger (@kathrynbarger) July 25, 2022
Los Angeles County Supervisor Kathryn Barger also opposed the potential move to mask mandates, issuing a statement Monday calling into question how effective mask mandates are in stopping the spread of COVID-19.

"I have not seen any empirical data that conclusively shows that masking mandates make a difference in decreasing or stopping COVID-19 transmission rates," Barger stated. "An analysis of Alameda County's June 2022 masking mandate, in fact, concluded it had no significant impact in comparison to its surrounding counties that did not impose a masking mandate. Alameda County dropped this mandate after only three weeks."
The point in her letter is that she supports and encourages everyone to get the vaccines and boosters and to take advantage of available treatments if needed but face masks have not proven to be effective.
There has been a spike in COVID cases in Los Angeles County but it is declining. The virus mutates and it spreads quickly, some variants are more contagious than others. Current variants are highly contagious but not as severe as past variants. There are far less hospitalizations for COVID now than in the past.
Ferrer indicated last week, however, that there might be a delay in imposing the mandate, depending on the trends in new COVID infections and hospitalizations. She noted during a Thursday media briefing that average daily case numbers appeared to be leveling off, and the number of people hospitalized dropped over the weekend.

She told reporters that if the county sees a "steep decline" in case and hospital numbers, "we are likely to want to take a pause on moving too quickly on universal indoor masking."

Los Angeles County moved into the CDC's "high" level of COVID-19 community activity earlier this month, when the average daily rate of virus-related hospital admissions rose to 10.5 per 100,000 residents, surpassing the threshold of 10 per 100,000. On Thursday, Ferrer said the admission rate over the past week rose to 11.4 per 100,000.

On Friday, however, the county saw a sharp drop in the number of COVID- positive patients hospitalized in the county, with the figure dropping by about 80 people to reach 1,247. The number fell again on Saturday to an even 1,200. Updated figures were not immediately available on Monday.
Americans are over mandates like face mask mandates to mitigate the coronavirus. Let people decide for themselves if they want to wear one. Real choice is a good thing.
Via            Hot Air
The Death of Black Coffee:
Latest studies have found that 1 tiny tweak to your morning coffee puts your body into fat-burn ing mode for the rest of the day.
This coffee trick takes less than 10 seconds…
Yet, it instantly ignites your metabolism and boosts your health, energy and well-being at the same time!
Here's to an amazing start to your day 🙂
====> Try This 10 Sec Fat-Burning Coffee Trick!