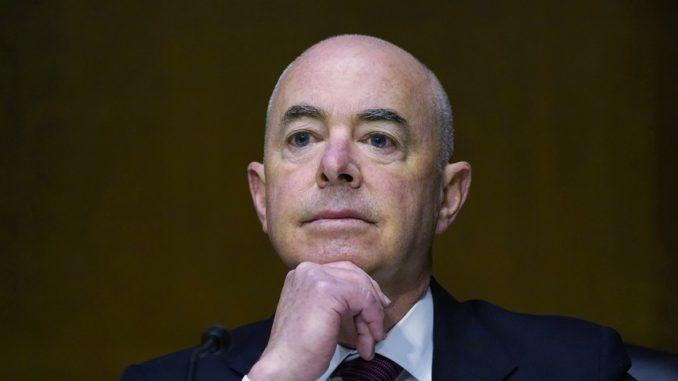 The Biden administration knows it has a looming "mass migration event" in the very near future when it ends the use of Title 42 at the southern border. The Department of Homeland Security (DHS) quietly set up the Southwest Border Coordination Center (SBCC) to coordinate its response. Think of it as a war room to game out the coming flood of illegal migrants to the southern border.
I say that SBCC was quietly created because before the reporting today by Axios, the war room wasn't reported on in the media. The reason for the nervous preparation for a mass event is because with the pandemic essentially ending, at least as far as government mandates go, Title 42 will soon end and illegal migrants won't immediately be expelled because of public health policy. Implementation of Title 42 was recommended by the CDC to President Trump when the pandemic began. It allows Border Patrol agents to immediately expel illegal migrants without hearing asylum claims. Progressives and open border advocates have criticized Biden for keeping the policy in effect but it may be the one thing right that Sleepy Joe has done in handling the border crisis of his own making. Title 42 has been used more than a million times since it was put in place.
DHS is bracing for 170,000 migrants on the southern border when Title 42 ends.
Department of Homeland Security intelligence estimates that perhaps 25,000 migrants already are waiting in Mexican shelters just south of the border for Title 42 to end.

On Wednesday, DHS Deputy Secretary John Tien asked employees "to consider stepping forward to support the DHS Volunteer Force," citing large numbers of migrants at the southwest border, according to an email seen by Axios. The email seeks general support for U.S. Customs and Border Protection and help with data entry.

Sources spoke to Axios on condition of anonymity to discuss sensitive internal conversations.
There are two takeaways from that. One, DHS is back to asking for volunteers to go to the border states, mostly Texas and Arizona. The agency has done that before in order to help with personnel shortages in migrant shelters and holding stations as waves of migrants come. Border Patrol and other law enforcement at the border are overwhelmed with tens of thousands crossing the border in large groups. The second takeaway is the admission that there is some leaking at DHS of "sensitive internal conversations." It should be noted that these conversations are about internal intelligence reports. I was told the Biden administration was the return of professionals in the White House. Also, where's all the transparency I was promised? This war room was created without a peep from DHS.
DHS Secretary Mayorkas has been under fire by Republicans and others concerned about the Biden border crisis. Arizona Governor Ducey called for him to tender his resignation in January. Rep. Chip Roy and other Republicans in Congress are calling for his impeachment now.
JUST IN — Texas Rep. Chip Roy has formally asked all House Republicans "to uniformly and publicly support impeaching" DHS Secretary Alejandro Mayorkas "for fundamentally refusing to secure the Southern border and endangering American lives in the process."@RepChipRoy pic.twitter.com/MnclwR37wa

— Anna Giaritelli (@Anna_Giaritelli) March 16, 2022
The return of massive surges at the southern border will only exacerbate the calls for the removal of Mayorkas from his position. The morale of Border Patrol agents is low and law enforcement in border communities are frustrated over limited resources and personnel. White House spokesperson Vedant Patel didn't confirm the reporting from Axios but did spin the decision to create a war room as "good government in action." "Of course the Administration is doing our due diligence to prepare for potential changes at the border."
DHS is bracing for a spring influx, the massive event, by using what is called the Southwest Border Mass Irregular Migration Contingency Plan. The department is asking for an all-hands-on-deck response from coordinating departments like DOJ, the State Department, the Defense Department, and Health and Human Services. Good luck with that. Resources are already stretched thin and the administration, in general, refuses to even acknowledge the humanitarian crisis on the border. The border czar, Kamala, won't even visit the border in any border state.
The department could surge hundreds or thousands of additional personnel from Customs and Border Protection, Immigration and Customs Enforcement, the Transportation Security Administration, Citizenship and Immigration Services and medical personnel from the Department of Health and Human Services.

DHS could request aircraft from the U.S. Marshals Service to help transfer migrants to other areas of the border, and call on additional air and ground transportation from the Department of Defense.

Officials could also request dozens of buses from the Bureau of Prisons to transport migrants between DHS facilities.

And they anticipate having to expand and even build new soft-sided facilities that can shelter up to 2,000 migrants apiece.
CDC evaluates its recommendation to use Title 42 every 60 days. The next re-evaluation is due in early April. Yesterday I wrote about the latest high number of illegal migrants apprehended at the border. I'd like to say that this war room and its contingency planning is giving me a glimmer of hope that DHS is getting itself together to deal with a ramping up of the current crisis but I'm flat-out of any level of optimism with this administration, especially with Mayorkas and DHS. The blame shouldn't fall on Border Patrol agents or law enforcement on the border. As I've said, they are overwhelmed and their resources are limited. I fear that nothing will change until the administration in the White House changes. We have at least three more years of this.
Via        Hot Air