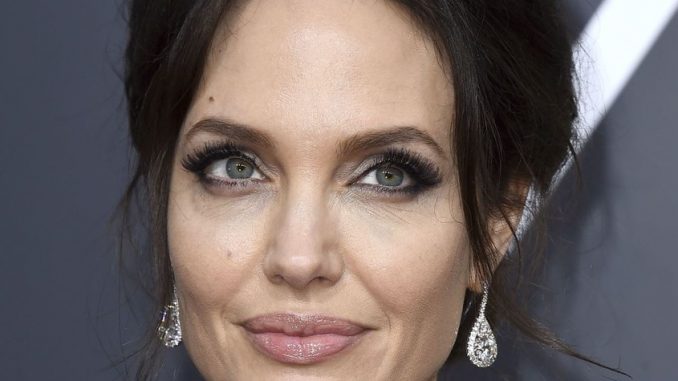 Speaker Nancy Pelosi isn't the only high profile visitor to Ukraine this weekend. Actress Angelina Jolie made a surprise visit to Lviv. Imagine the surprise felt by Ukrainians who were sitting in a coffee shop as she walked in.
One of the Ukrainians in that coffee shop documented Angelina's stop on Facebook. "I just went to have coffee," she wrote on Facebook with a video of what happened. She jokingly wrote, "Just Angelina Jolie."
Angelina Jolie has been a U.N. special envoy for refugees since 2012. A spokesperson for the Office of the U.N. High Commissioner for Refugees (UNHCR) said that she traveled to Ukraine in her personal capacity, not in coordination with the UNHCR.
Representatives of Jolie did not immediately respond to requests for comment Saturday. A spokesperson for the actress told NBC News that Jolie, who praised the country's "resilience and courage and dignity," was in Ukraine "to bear witness to the human impact of the conflict, and to support the civilian population."

"The impact the war is having on a generation of Ukrainian children is devastating to see," Jolie said in a statement to NBC. "No child anywhere should have to flee their homes, or witness the murder of their loved ones, or experience shelling and the destruction of their homes. Yet that is the reality of so many children in Ukraine and around the world."
Since she became an envoy, Angelina often focuses on the needs of children in war torn countries and victims of natural disasters.
The 46-year-old star has brought attention to other humanitarian crises, previously visiting Mosul, Iraq, in 2011 and Yemen just last month. She visited young Ukrainian refugees last month at a pediatric hospital in Rome.

Jolie has voiced her support for Ukraine since before the start of the war. She has emphasized on Instagram that "children will pay the highest price" during the Russian invasion.

"Like many of you, I'm praying for the people in Ukraine," she wrote in February. "My focus along with my @refugees colleagues is that everything possible is done to ensure the protection and basic human rights of those displaced, and refugees in the region."
Angelina visited Lviv which is in western Ukraine, an area that hasn't seen the kind of attacks as in other parts of Ukraine, including Kyiv and further east. Nonetheless, it's still a dangerous trip. Journalist Christo Grozev posted a video on his page and captioned it "Angelina Jolie had to be rushed to a bomb shelter as air-raid sirens went off in Lviv."
Angelina Jolie had to be rushed to a bomb shelter as air-raid sirens went off in Lviv. pic.twitter.com/dOnLcQsp6d

— Christo Grozev (@christogrozev) April 30, 2022
In the video, Jolie can be seen walking briskly with a group of people out of a building into the street. At one point, a woman turns to the person recording and says to them "no more."

Throughout the clip an air-raid siren can be heard. At one point in the brief footage, a man can be seen walking up to the actress in an attempt to get a selfie.

A voice can also be heard asking Jolie if she is afraid to which she replied no and added that she was okay.
She spoke with children who are displaced due to the Putin's war during her visit.
"They must be in shock… I know how trauma affects children, I know just having somebody show how much they matter, how much their voices matter, I know how healing that is for them," Jolie said as she noted that there was a psychiatrist on duty to speak to the children.
Jolie met with displaced Ukrainian children under treatment for injuries sustained in a missile strike on the Kramatorsk train station in April. Lviv regional governor Maksym Kozytsky said she also visited a boarding school where she met with students and took photos with them. She promised them she would return. Reuters reports that psychiatrists are on duty and speak with about 15 people a day, many of the people in the train station at the time of the missile attack were between the ages of two and ten.
Kudos to Angelina Jolie for her work with displaced Ukrainians, especially her work with children affected by war. She's doing what Joe Biden refuses to do – go visit Ukraine. Biden would send a powerful message to the world if he showed up in Kyiv as other world leaders have done. But, he's old and frail. His staff is too afraid to allow him to travel overseas any more than absolutely necessary. Look at the message sent when Boris Johnson walked through the streets of Kyiv with Zelensky. Imagine if the leader of the free world did the same. Instead, Biden stayed in Washington this weekend and attended the White House Correspondents' Association dinner, enjoying the adulation of a very supportive audience. Priorities, Joe. It's not a great look that 80 year old Nancy Pelosi, the Speaker of the House and second in the line of succession, made the trip to Kyiv while Joe and Jill were partying with the Washington elite.
Maybe it just doesn't matter that the president hasn't shown up to offer support for Zelensky with a personal visit to Kyiv. Watching press coverage of other trips Biden has taken overseas since he became president, we usually see some clips of world leaders chuckling at his behavior, openly laughing when he screws up, which he always does. There doesn't seem to be much respect for him as a leader.
Pelosi's delegation will travel on to Warsaw, where they'll meet with President Andrzej Duda and senior officials.
Via                Hot Air