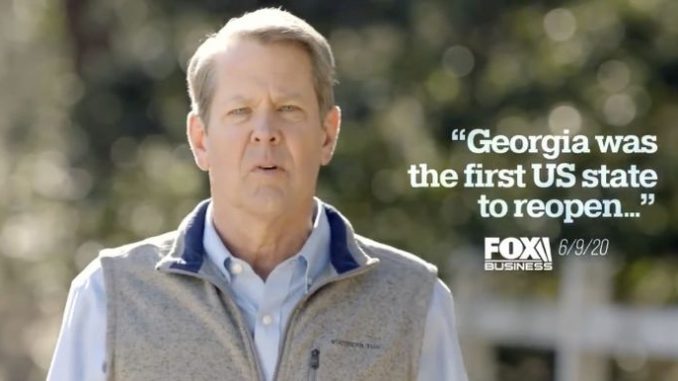 What, you thought their first campaign expenditure of the cycle would be aimed at beating a Democrat?
Silly. Trump doesn't have any vendettas against Democrats. His vendettas are reserved for Republicans who were "disloyal" to him in 2020 by not helping him overturn the election. For instance, just yesterday he issued an anti-endorsement of Bill McSwain, one of the Republicans running for governor of Pennsylvania. McSwain was a U.S. Attorney in Trump's DOJ two years ago but was too much of a "coward" to try to flip the state from blue to red after the fact.
"It was there for the taking and he failed so badly," Trump said in his statement, revealingly.
Anyway, the fact that his PAC is kicking in to try to help David Perdue in Georgia is surprising to me. Perdue's polls have been so weak of late that I speculated yesterday Trump might do the opposite, cutting bait ahead of a likely defeat the same way he did with Mo Brooks. Maybe he'd find some excuse to un-endorse Perdue and then, when/if he loses the primary to Kemp, insist that Perdue would have eked it out if only Trump had stuck with him.
Instead he's going all in. He may have concluded that he's devoted so much rhetorical energy to berating Kemp that there's no way realistically to try to retcon a Perdue defeat after the fact by claiming that Trump wasn't really engaged in the race. He's fully engaged. He's held rallies for Perdue. He cut a video endorsement for him after he got in. There's no way to put lipstick on the pig in the event of a Perdue loss. So his best play is to spend big in hopes of dragging Perdue over the finish line and then to take his medicine afterward if he fails:
Trump's Save America PAC has transferred $500,000 to a super PAC devoted to defeating Republican Gov. Brian Kemp, whom the former president has targeted over his refusal to overturn Georgia's 2020 election results. Those close to Trump's political apparatus describe it as an initial cash infusion ahead of the May 24 primary, which pits Kemp against Trump-endorsed former Sen. David Perdue…

Since receiving the donation from Save America PAC on March 25, the anti-Kemp Get Georgia Right super PAC began running a TV ad saying that Kemp "dismissed concerns about voter fraud in the 2020 election." The ad argued that "if Kemp can't beat voter fraud, he won't beat [Democratic candidate] Stacey Abrams" in the November general election.

The commercial is running in the more conservative parts of the state, with an eye toward driving Trump supporters out to the polls for Perdue. The super PAC's senior adviser is Gregg Phillips, a conservative activist whom Trump name-checked in a 2017 tweet after Phillips made the unfounded claim that 3 million votes were cast fraudulently in the 2016 election.
Trump's gigantic war chest has become a sore spot within the GOP establishment precisely because he'd been stingy to date in sharing the wealth. He's sitting on a $110 million nest egg, big money that could potentially push a lot of Republicans over the top in tight races if it's spent judiciously. It's in TrumpWorld's own political interest to spend it: If he ends up facing a primary challenge in 2024, the money he spends now on congressional candidates will keep them in his corner. And he's more likely to face a primary challenge if his candidates fare poorly in their races this year. If he wants to scare off other contenders and show that the party still belongs to him, the obvious play is to start dropping money bombs to get his people elected. Anything his PAC spends will be replenished easily by the MAGA faithful once he's a presidential candidate again.
Instead he's been holding back, making token donations until he finally splurged a little on Perdue. It's baffling.
One former Trump campaign official said there was no way Trump would "spend any money on these people in midterms," adding that the former president was raising money for himself.

"He does not share well when it comes to money," this person said in an interview, speaking on the condition of anonymity so as to not incur backlash from the former president and those in his orbit…

"There are districts where Trump can hurt the Republican candidate," [a] source added. "There's no question about that. But there are more districts where he can help them. And so you'd be targeting those districts. … I don't think Trump's team knows how to do it. I don't think Trump's team cares much about doing it."
"If there are seats left on the table because he is stockpiling hundreds of millions of dollars and not spending it to help candidates, then that will leave a bad taste in people's mouths," said one GOP strategist to NBC. I don't think Trump cares about that. But he will care if he ends up personally embarrassed by MAGA candidates failing to unseat anti-Trump Republicans. Why hoard his money instead of helping them?
Kemp is out with a new ad, incidentally, which is interesting both for what it does say and what it doesn't. The part where he hangs up on "Dr. Fauci" made me laugh. Watch:
Fauci, Stacey Abrams, and the media said it was too soon to reopen Georgia. But we chose FREEDOM over lockdowns, and we were RIGHT!

WATCH our latest TV ad and VOTE to re-elect Governor Kemp on May 24th! pic.twitter.com/fB8DrdDGID

— Brian Kemp (@BrianKempGA) April 13, 2022
That's good politics. He continues to follow the "don't criticize Trump" rule that's served him well in the primary against Perdue despite the intense temptation he must feel to hit back. Instead, he's countering Trump by focusing on his anti-lockdown credentials. The implicit message here is that you're not betraying conservatism by preferring Kemp to Perdue, no matter what you-know-who might have you believe. To the contrary.
But there *is* some implicit criticism of Trump. Think all the way back to first weeks of the pandemic in 2020. Kemp moved early to reopen Georgia businesses after the initial stage of lockdowns — and was needled for it, surprisingly, by then-President Trump, who said during a White House briefing, "I want him to do what he thinks is right, but I disagree with him on what he is doing. I think it's too soon." Kemp can't afford to antagonize Trump directly by reminding viewers of that in the clip, but he's trusting that reporters and other media types (like me) when writing about the ad will remind people that he was anti-lockdown before even Trump thought being anti-lockdown was cool. It's a clever spot. I think he's going to win.