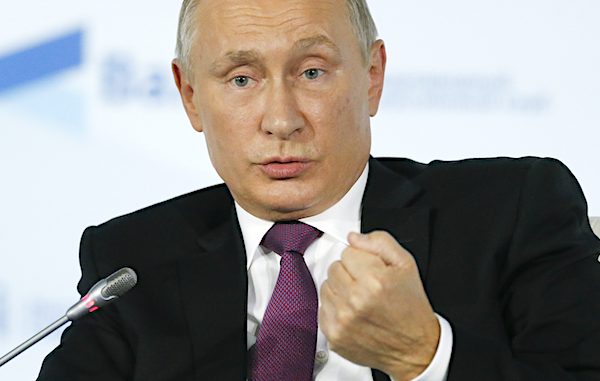 As more than 60 cities throughout Russia exploded Saturday with protests against the Vladimir Putin regime's arrest of dissident Alexei Navalny, the Biden administration was reportedly considering the imposition of so-called "Magnitsky sanctions" targeted against top Kremlin officials.
A number of high-profile opponents of Putin voiced confidence the new U.S. president would shortly take a hardline against the Kremlin and stand with Navalny —who survived a globally watched, and near-fatal, poisoning last year.
"I have to believe and do believe the Biden administration will use the Magnitsky Act and their rational thinking about Russia to be much tougher than Trump was," said Bill Browder, famed as the U.S. businessman in Moscow whose clash with the Putin regime over tax liabilities resulted in the death of accountant Sergei Magnitsky and the subsequent U.S. "Magnitsky Sanctions" against Russian officials.
Enacted by Congress in 2013 with 84% of the votes in the House and 92% of the Senate, and signed into law by former President Barack Obama, the Magnitsky Act specifically targets the assets within, and visits to, the U.S. by key people in and around the Kremlin.
Browder recalled Biden's speech in Moscow as vice president "on the Magnitsky Act and how he supports it. His incoming Secretary of State Antony Blinken made good and positive comments about the Magnitsky Act in his Senate testimony last week."
Browder's view was strongly echoed by Russian chess master and Kremlin enemy Garry Kasparov, who recalled that "Biden was the most hawkish voice in the [Obama] Administration. One of his first orders [as president] to American intelligence was to investigate Russian interference, Russian hacking, and the poisoning of Alexei Navalny."
Vladimir Kara-Murza, a leading Putin critic who survived two poisonings, said he felt confident about a new hardline against Putin from Washington, D.C., because of "the experience and the convictions of the president himself."
"Ten years ago in March, when [Vice President] Biden was in Moscow, he made a very Reagan-esque gesture that very few Western leaders make today," Kara-Murza said. "Straight after his meeting with Putin, he went to see the leaders of the Russian opposition — Kasparov, [the late Boris] Nemtsov, many others. What they discussed was very important — Magnitsky sanctions, political prisoners, and the need for oversight from overseas on Russian elections to cover fraud."
Kara-Murza, Browder, Kasparov, and fellow dissident Mikhail Khodorkovsky spoke to reporters Saturday in a virtual news conference from London.
Via Newsmax